This weekend I've been shopping for some new basics for summer and realized that there are a few brands I go back to year after year.  If you're anything like me these are the pieces that you stock up on every year.  Here are my favorites:
Tank Tops:  Faded Glory from Walmart and Merona from Target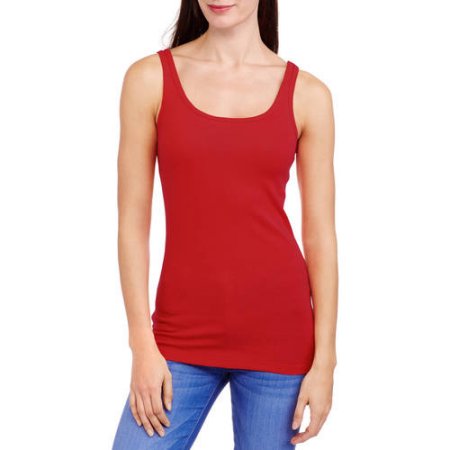 Since summers get a little hot in North Carolina, tanks tops are what I live in between May and September!.  I want them in every color, preferably scoop neck or v-neck, with a strap that is wide enough to wear a normal bra.  I usually have one white and one black spaghetti strap cami for layering, but I much prefer tank tops with an actual strap.  I've bought cheap ones from both Old Navy and Forever 21 and those are too thin and don't even last a season.  Target makes their "Favorite" tank top from Merona, which is a nice option for $9, but I genuinely prefer the Faded Glory "Essential Knit" tanks from Wal-Mart.  They are just as weighty as the Target ones, but the Faded Glory does not fit as tight through the body and around the bottom.  The Merona tanks run very, very small.  I can't do an extra small in that brand, and even the small is tight around the mid section and bottom band.  If I size up, the medium is too big under the arms so even though I like the fabric and the color range they're not ideal.  The Faded Glory ones are my perfect tank where the fit is nice and I can wear them on their own with capri leggings or layered under a blouse.  They wash well and surprisingly don't shrink, and over the years I've collected them in lots of colors since they're under $4!
Short Sleeve T-Shirts:  Marine Layer and Gilligan & O'Malley from Target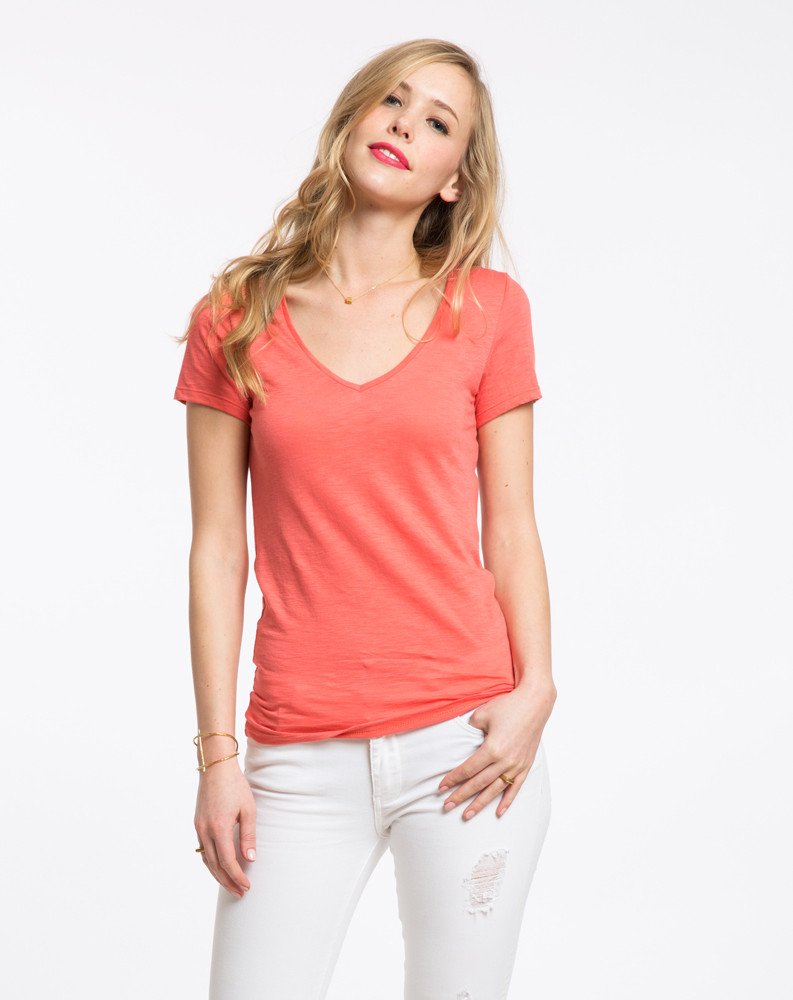 I know that normally I'm very frugal, especially where basics are concerned… Marine Layer would be the exception!  I randomly found this brand on a trip to Portland the summer before last.  Their stores are super cute, and the brand has that effortless California vibe going that I wish I could emulate every summer!  They advertise their shirts as "Ridiculously Soft," and that is an apt description of their modal/cotton blends!  I love the Slub Tees in either the V-Neck or the U-Neck styles and wear an extra small.  At 3 for $100 they're not exactly cheap… but you are paying a little more for quality from an ethical brand.  Since I seem to be collecting them in multiple colors, I think they're worth it!  (I went to the store on Damen Avenue in Chicago last month and bought another one!)  Check the "Last Call" section of their website, since they regularly put certain colors on sale for $25.  (I might need the Raspberry color or the Geo Print!)
Marine Layer gets first place for best tees in my opinion, but if you want the budget version of that the Gilligan & O'Malley sleep t-shirts are similar for about $13.  I know that sporting sleepwear out of the house might seem strange, but these are comfy modal/cotton tees and no one will ever know they're supposed to be worn to bed!
Long Sleeves: Cynthia Rowley
I can't link to anything since these don't seem to be available on the TJ Maxx website, or at least I can't seem to find them!  Their website will not let you search easily by brand, but my TJ Maxx store always has Cynthia Rowley tops in stock.  They typically run $13, although this time of year you might find the long sleeves on clearance.  These are available in both a full long sleeve or a 3/4 sleeve and in a V-neck or a U-neck.  They are a nice soft jersey and mine have been washed a ton but still wear well.  I've got them in black, red, and grey and wear them often in Fall and Winter.  In a recent post I was wearing the grey version layered with a leopard printscarf.
Runner Up Brands:  What I've listed above from Faded Glory, Marine Layer, and Cynthia Rowley are my definite favorites that I would steer anyone towards.  There are a couple other brands that I like too, although they are slightly pricier.  You can't go wrong with simple tops from J Crew or Madewell.  I find their sizing a little inconsistent though, so you might want to try them on in store.  There is a J Crew outlet store in Charlotte, so I have a few tops that I picked up super cheap.  The other brand that I'm loving lately is Halogen or BP from Nordstrom.  Halogen is their house brand, and BP is more the juniors version of that.  Everything I've bought so far has been nice.
This was my list of favorite tops… what are your favorites?  I'll probably pick up a few more tanks and tees for summer, so leave a comment below and let me know your favorites!  I've been looking for a racerback tank or a slightly swingy, trapeze style longer tank to wear with leggings.  Any recommendations?